We had an open week , so happy to feature ourselves for the 4th Sinchi & Friends Podcast and Q&A. A mix we did a while back but includes an exclusive to a new track somewhere in the middle…
1) Introduce yourself?
SINCHI is a collective of musicians, producers, artists and writers searching for those all too brief moments of truth through their chosen medium.
2) How would you describe your sound?
Our sound is the result of an incredibly hi tech back end (the human brain) filtered to a very low tech front end (our prodding fingers on keyboards) in an attempt to interpret the sounds heard at source – we will keep trying
3) What are your plans for 2016?
To pursue what makes us happy , keeps us present and to share this with friends we have not yet met – friends we are looking to make through our own series of experience based events later this year – starting in the wonderful city that is Amsterdam.
4) Which track in the mix is your favourite right now?
The tower of talent that is Moscoman has taken our next release "Never Lost" and created a 6 minute holiday for the ears  – follow the seagulls
5) What was the last record you bought?
We are slowly collecting the back cataolgue of L.I.E.S but one of our last digital purchases was "Darkness" by the roots and on Vinyl – Talk to the Sea – Gigi Mason from the awesome Music from Memory Label.
6) What is your favourite track of the last 12 months? (Include both one of your own and somebody else's)
C.O.L really captured a moment shard for us  – one which is hard to explain but tied the Sinchi team together in a great shared experience.  In reference to other artists it would be difficult to pin it down a track but really rating everything coming from Red Axes.
QUICKFIRE
7) Baggy or slim?
We are not big folk so slim suits our snake like frames
8)  Secret studio trick ?
Using the most antiquated equipment possible  –  which at time brings the other members of the team to a mix of frustration and laughter  – Some of our team barely have internet .. let a lone a digital workstation that has progressed past the 90's.
9) Glass half full or half empty?
A fully drained glass with a shot on the side please
10) What colour is 80 – 100 hz?
It is of course Purple … slightly marbled purple
11) Old piece of kit you like ?
EMU E6400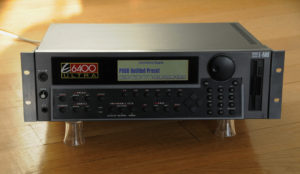 12) Where / Is there a line between creativity and insanity?
Creativity requires inspiration , Insanity requires no muse.
13) One thing you'd most like to change about the world?
The dissolution of monotheistic religion and a mass uptake in taking responsibility for your own actions  – good , bad or indifferent
14) Blissful ignorance or cruel reality?
Blissful ignorance and intolerance of reality .
15) A necessary evil…
Evil itself , without it none of it's Cousins would know their place.