Next up in the Sinchi & Friends series is MAN2.0 , we first connected with Mark earlier this year when he sent some of his music, we were immediately big fans and delighted to see them picked up by the fantastic Nein Records soon after (Coming very soon). Enjoy a top mix with perhaps our favourite intro to date…
Introducing
1) Who are you?
Mark Bailey- Educator, bleep merchant, terrible drinking buddy. An old hat sometimes mistaken for a new kid on the block.
2) How would you describe your sound?
Consumerist techno, EBM, Dark Disco, there are plenty of names you could give it but I try to avoid the term 'chug'. It sounds like a drinking game… Or the breed of my dog. If the sound were an image it would probably be a H.R Giger painting reimagined by Caspar David Friedrich.
3) What are your plans for 2016?
Make music, vote in the referendum, raise my boy and bring another into the world with the lovely wife. I have two eps forthcoming on Nein round about August and a few remixes forthcoming as well, if only I could just finish them!
Tracks
4) Which tracks in the mix are your favourite right now?
Curses-Practice Makes Perfect, Luca is a really talented guy who has had some ace tracks on Throne of Blood and Consequence of Love – Death in Vegas. The new album is absolutely mind blowing. I'd love to watch Richard Fearless work for a week, just to see how he creates stuff.
The Cabaret Nocturne remix of Tronik Youth's 'Never Said'. It would be rude of me to not mention Tronik as he has taken me under his wing and taught me loads of stuff, (like just saving my work, for example!)
5) What was the last record you bought?
Gemini Bros- Lost Babylon, the new Death in Vegas album and Dial Me In by Factory Floor. Its a much nicer question than the first… (Wham.)
6) What is your favourite track of the last 12 months?
(Include both one of your own and somebody else's)
Nick Murray and Kris Baha- Say Something
MAN2.0- Party in my Spine (Dimitri Veimar remix)
Although honourable mentions to Cowboy Rhythmbox, Manfredas, Red Axes, Doctour Satan, Permanent Wave and of course David Bowie for BlackStar.
Quickfire
7) Late nights or early mornings? Nothing like finding the line between the two!
8) Choice of footwear? Flip flops, seriously.
9) Baggy or slim? I'd love to be able to pull off slim but I've recently reconciled myself with large t shirts instead of medium.
10) Favourite way of getting a little wonky? Auto asphyxia… And crack.
11) Favourite writer / poet ? One of Goethe, Joyce (pictured below) or Bulgakov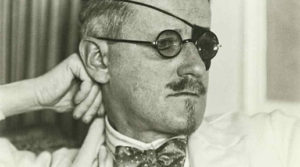 12) Favourite out of genre music? Krautrock, Prog Rock, Noughties Pop, Shoegaze, Grunge… Is Bowie a genre?
13) Miley Cyrus … Who am I to judge?
14) Where / Is there a line between creativity and insanity? If there is I've not found it. Hitler wanted to paint, and I suspect Warhol wanted to be an authoritarian dictator.
15) Ultimate aspiration in life? I just want the screaming to stop.