Mix number 17 in the Sinchi & Friends series comes from Freudenthal . One of the biggest characters in the scene and can always be relied upon for an interesting perspective on things… with a great flow of fantastic music released on Nein, Emerald & Doreen and Regith Records amongst others. Enjoy this top mix or as he would say.. Beep Beep
1) Who are you?
Beep Beep.
Tommy Freudenthal from Berlin Suburbia.
At your service.
2) How would you describe your sound?
Never was a fan of genres, love to tap into a big spectrum of inspirations and influences while keeping the sound picturesque
and emotional. Here and there trying to give back some melodic musicality to the overall rhythm based stream.
3) What are your plans for 2016?
Its May and 2016 already was pretty awesome. After 2 Singles on my beloved NEIN Records in late 15, I released an EP on Emerald and Doreen and another Single on Spanish Logical Records this year, all of them are such a bunch of lovely people I have to say. Moreover Iam looking forward to forthcoming releases on SPA in Disco and Regith Records, Mexico. My touring highlight definitely will be the LA DAME NOIR on July 22.
Tracks
4) Which track in the mix is your favourite right now?
Probably the DBFC. Mindbogglingly kewl Combo. I'am Fan.
5) What was the last record you bought?
That would be some Rimto Culto tracks.
6) What is your favourite track of the last 12 months? (Include both
one of your own and somebody else's)
I think my own fav is "Occult Peregrination" on NEIN of course,
all though the forthcoming "BILDERBLAST" (NEIN) could become a new favourite.
One of my most played and beloved tracks in the last time is the Dombrance Remix of Theremynts "Robotique de l'amour".
Quickfire
7) Late nights or early mornings?
LATE NIGHTS
8) Secret studio trick ?
ORGONITE
9) Favourite frequency ?
430.65 HZ
10) Glass half full or half empty?
The glass is a hologram.
11) Do you fit in or fall out?
OUT!!!
12) 606 , 707 , 808 or 909 … Or something else ? DMX , SP12 …
SP12!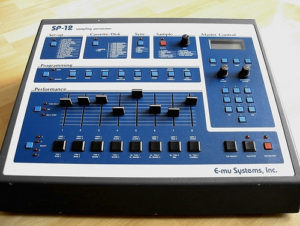 13) Favourite film score?
STARGATE!
14) Future of electronic music?
DARK!
15) One thing you'd most like to change about the world?
Abolish Money and Corporate Structures.
16) Blissful ignorance or cruel reality?
Reality!
17) If to live in a lost civilisation or culture, which one would it be?
Lemurian.
18) Ultimate aspiration in life?
Ascension of Consciousness.
♥