Mix Number 8 in the Sinchi & Friends series is Heretic. A man who needs little introduction…. Due to the amazing quantity and quality of his productions.
We've huge fans and featured much of his music on our mixes. So not only delighted to have him involved in this series but also have him involved on a release called 'Beings of Silence' coming this summer.

Introducing
1) Who are you? Hello, I'm Timothy Clerkin; Heretic on my own and also one half of Eskimo Twins.
2)How would you describe your sound? Hmm, it's tough to be objective about your own work but from my point of view, it's sort of noisy acid-house with good measures of techno & disco thrown in, all underpinned by my love of guitar music.
3)What are your plans for 2016? I've got a shed load of releases lined up, both originals & remixes. My live show is now on the go, so I'll be doing that wherever I can & DJ'ing anywhere people are willing to let me.
Tracks
4) Which track in the mix is your favourite right now? Tough – it between Africaine 808 – Ngoni & Kastil & I-Real – T.W.L.F
5) What was the last record you bought? Dikembe Mantu by Red Axes & Moscoman on ESP Institute. It's amazing.
6) What is your favourite track of the last 12 months? (Include both one of your own and somebody else's) – Hard to pin down, but in terms of club music I had an especially large obsession with AtomTM & Tobias – Physik E7532 for a while there.
I think the my favourite track I've put out in the last year is probably For Whom The Cowbell Tolls on Rock To The Beat Records.
Quickfire
7) Late nights or early mornings? Late nights. I am not, never have been & hopefully never will be one of those god-awful spritely-in-the-morning types.
8) Choice of footwear? Brogues usually.
9) Baggy or slim? Neither, a proper, tailored cut.
10) Favourite way of getting a little wonky? Booze.
11) Secret studio trick ? Not sure I have one… Just chucking stuff through guitar amps & /or pedals gets me aroused though.
12) Favourite mix of Oscillators? A simple square wave through the right filter can be all you need.
13) Favourite frequency ? All of them.
14) Favourite writer / poet ? Christopher Hitchens.
15) Glass half full or half empty? Probably empty. I'm a fragile artist innit.
16) Do you fit in or fall out? Hmm, mainly the latter.
17) What do you see when you look in the mirror ? Someone who hasn't had enough sleep.
18) What colour is 80 – 100 hz? Wish I knew but I'm not Franz Liszt unfortunately!
19) 606 , 707 , 808 or 909 … Or something else ?  808 always.
20) New piece of kit you like? The new minilogue looks interesting, not had a go yet though.
21) Old piece of kit you like ? Space Echo. Use it everywhere.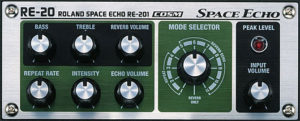 22) Trance in 2 words? My destiny?
23) Favourite reverb ? Spring – again, guitar amps or just the Space Echo one are good.
24) Miley Cyrus … The achey breaky daughter?
25) Favourite film score? Very tough. Potentially Requiem For A Dream.
26) Future of electronic music? Fuck knows!
27) Blissful ignorance or cruel reality? Cruel reality. It's not always that cruel though.
28) A god(s)? The gods of the three main monotheisms are quite obviously man made to anyone that gives it more than 3 seconds thought. The origin of this universe could possibly be put down to a 'god', though that's not the word I'd use.