We're delighted to feature Andrew Claristidge for the 1st Sinchi & Friends Podcast and Q&A.With an exclusive of a fantastic new track of his -Automated Motion (Baroque remix). Enjoy 
Introducing
1)Who are you?
I am Andrew Claristidge from France. I am living between my small village in Bretagne and Berlin. 
2) How would you describe your sound?
Melodic and quite epic. 
3) What are your plans for 2016?
Too many to say everything here. But I can tell you that I will release; Danser ou mourir remixed, my LP entirely remixed by The Hacker, David Carretta, Cosmo Vitelli… to name just a few. I have also just finished the new Acid Washed album… and the rest, well you will have to wait… 
4) Which track in the mix is your favourite right now?
All the tracks in the mix are my favourite's but if I have to pick up one, then I would choose my own:  Andrew Claristidge, Automated Motion (Baroque remix) which is an exclusive.
5) What was the last record you bought?
6) What is your favourite track of the last 12 months?  Kruton « Initiation Spindle » (Wrong Era).
Quickfire
7) Late nights or early mornings? kinda the same! Isn´t it? 
8) Choice of footwear? Doc Martens.
9) Favourite writer / poet ? Houellebecq
10)606 , 707 , 808 or 909 … Or something else ? CR78!!!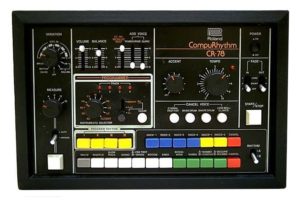 11) A god(s)? God in 3 persons – http://www.discogs.com/Residents-God-In-Three-Persons/release/663439 
12) Favourite art besides music? Literature 
13) Do you live up to your own expectations? Yes I have ambition!!!
14) Critics…Always.
15)A necessary evil…Drugs.